Congratulations Briar on becoming a Chartered Accountant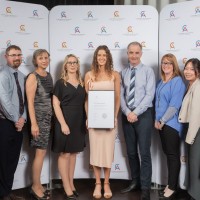 Most of the DCH team attended the Chartered Accountants Australia and NZ (CAANZ) Presidential Gala Dinner last week where Briar Hansen was officially awarded her CA Qualification. This qualification is achieved by completing an undergraduate Bachelor's degree, completing three years of specified practical experience, completing CAANZ prescribed academic papers which are completed extramurally while working and passing the CA technical CAANZ modules.
Attaining the CA designation requires a significant commitment and is a major achievement. A lot of hard work and personal sacrifice goes into attaining the CA designation.
Briar comes from a farming family in a rural town in Waikato which we have heard a lot about during her time at DCH. Briar's parents were able to attend the ceremony which gave us an opportunity to get to know them and find out more about Briar which was fantastic.
Briar joined DCH in 2017 as a graduate accountant, she is now known to many clients and provides support and advice on accounting and software systems. We are very proud of Briar and were pleased to share this experience with her.